8th Annual- Alumni Game Details
Sunday September 17, 2017- 9:30am BP
HR Contest, Game, and Taco Cart Again This Year
More Details Coming Soon...
8th Annual Alumni Game- Sunday September 17- 9:30am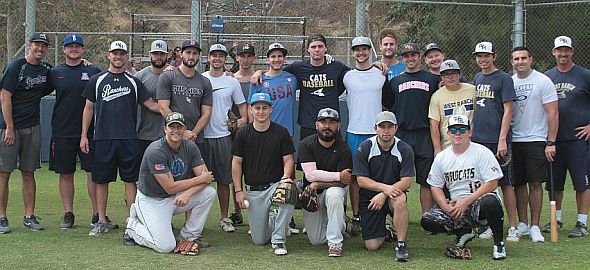 Thanks to all our our alumni who particpated on Sunday morning. A special thanks to The Alvarez family for catering the event via Sharky's Restaurant. Pictures from the event coming soon.
Before the game, JC Cloney was the 2017 Home Run Contest champion. Aaron Watkins was the game MVP. Team Chrirs Reed beat team Andrew Reed 5-3 this year. Aaron Watkins earned the save while also hitting a home run and collecting 3 RBIs. Both Ryan Keller and Trevor Fredrickson threw a scoreless inning and had a single. Chris Reed had a triple, double, and a RBI. Chris Caldwell hit a mammoth 2 run home run.Cal Vogelsang had a double. Aaron Hasson had a RBI single. Andrew Reed contributed with a hit.

7th Annual Alumni Game Results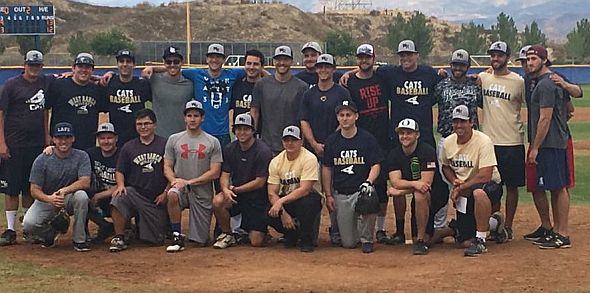 On Sunday the Alumni took the field in our annual Alumni Game Event. Before the game Chris Caldwell out lasted Aaron Watkins to win the 2016 Homerun Derby Crown.
The game featured team Chris Reed vs team Andrew Reed. Andrew's team gave up 4 runs in the top of the 1st but then scored 6 in the bottom and then 3 runs in the next 2 innings while holding team Chris to no more runs. For the visiting team, Chris Reed and Ryan Lau each had 2 RBI doubles. Tyler Miura added a single. For the victorious home team Randy Poe had a 2 run homerun and a RBI single. Nico Rusconi and Trevor Fredrickson each had 2 hits. Caldwell had a 2 RBI double. Allen Sarkissian and Casey Watkins each threw a scoreless inning for team Andrew Reed.
It was a pleasure to see everyone again. The West Ranch coaching staff thanks all of this year's participants for coming back to spend time with our baseball family! We wish all who attended and everyone who was not able to attend another year of success and happiness until we see each other again in October 2017! Please keep in touch and best of luck to all of you! Wildcats forever!


6th Annual- Alumni Game Results
Sunday September 13, 2015

It was a great morning with over 20 ex-players in attendance. Even more alumni parents showed up as well. It was great to see everyone. We have miss you all!
Chris Caldwell was the 2015 Home Run Contest Winner edging out Tyler Miura in 2 rounds of competition.
Team Andrew Reed got the win over Team Chris Reed via a walk-off sacrifice fly by Travis Sreden to score Caldwell. Final score was Team C Reed 6 and Team A Reed 7. All of the arms got hit hard as there were 14 hits in just 3 innings of action. Aaron Watkins had a towering 2 run home run in the first inning. Jake Spurlin and Randy Poe each had a double, single, and a RBI. Trevor Fredrickson had 2 hits and a RBI. Tony Slauson and Miura each had a triple. Alex Karroll had a 2 RBI single. Casey Watkins and Caldwell each added a double. Chris Reed added a RBI single.
After the game we all enjoyed a Taco Cart and some great memories. We will see everyone again next year!

---
2014 Alumni Game (5th Annual)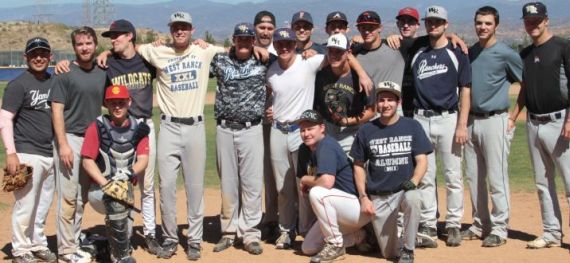 The 2014 Alumni game was a huge success. Thank you to all the Alumni players, families, and friends who came out to the event. A special thanks to Trevor Fredrickson for helping organize the event. Andrew Reed and Chris Reed were once again drafting players and setting up a couple rosters for us. Final scroe was 10-2 and the hit of the game was a 3 run home run by JD Krauskopf. The defensive play of the game was turned in by Jake Spurlin who robbed a home run with a great catch in left field. On the mound all the arms were solid. The follwoing pitchers threw scoreless innings- Chris Reed (2), Jay Malsbury, Travis Sreden, Casey Watkins, Aaron Watkins, and JD Krauskopf.
Here are some offensive highlights-
Tony Slauson had a single, triple, and a RBI,
Andrew Reed had a double and a single
Aaron Watkins had a single
Steven Farnworth had a single
Michael Prieto had a double and and 2 singles
Jake Spurlin had a single and a 2 RBIs
Max Blaha had a triple and a single
Kyle McGraw had a sacrifice fly
Chris Barthel had a hit
Jay Malsbury had a RBI single
Travis Sreden had a hit
Nico Rusconi had a hit
Trevor Fredrickson had a hit
JD Krauskopf had a home run, a single, and 4 RBIs
---
4th Annual (2013) Alumni Game Recap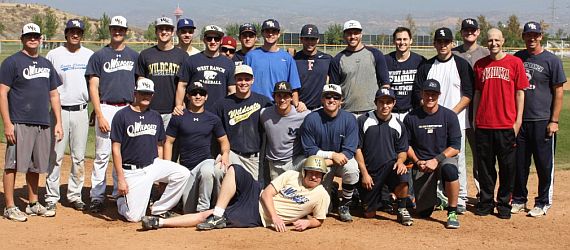 We had 2 HR Contest winners. Trevor Fredrickson won the open bat division with his modified softball bat finishing the final round with 2 towering flyball home runs to right. Casey Watkins was the last man standing using a regular bat.
The game had several big moments highlighted by a left center field home run by Josh Heinz. Heinz also had a triple earlier in the game. Aaron Watkins had a pair of doubles. Casey Watkins had a triple. Andy Hammons added a double. Adding hits were Tony Slauson and Nico Rusconi. Andrew Reed was ejected from the game for throwing at CJ Woldanski. Cody Bennett has 3 strike outs in his 1 inning of work. Bobby Calzadillas and Trevor Fredrickson each threw a scoreless inning.
Of course everyone loved the Taco Cart lunch. Thanks to all the players, families, and friends who made the event such a huge success.
Watch Game on Our YouTube Page
---
3rd Annaul West Ranch Baseball Game
October 6, 2012
Watch Video From Alumni Game on YouTube Here!
6:20 into video is Lau's first HR. His 2nd HR is at 1:47:35!!!!!!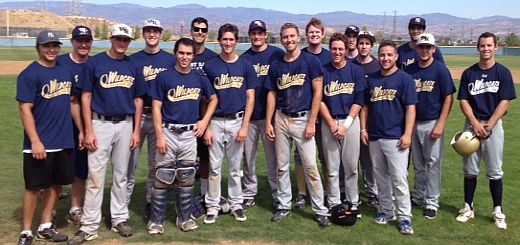 The 3rd Annual Alumni Game was a blast. The home team won it in the bottom of the 6th by a final score of 11-10. The game MVP goes to Ryan Lau who had 2 monster home runs, a single, and 5 RBIs. Lau pitched 2 innings and got tagged with the loss. Down 2 runs in the last inning, Tom Claffey hit a solo home run. Nico Rusconi and Randy Poe each had singles. Josh Heinz hit a ground ball and the throw to first was wide allowing 2 runs to score and end the game. There was a lot of offense in the game. CJ Woldanski had a single, double, and a home run. Heinz had 2 doubles. Aaron Watkins had 2 singles and a double. Claffey finished with a 2 doubles and a home run. Randy Poe had 2 doubles and a single. Rusconi and Travis Sreden each had 2 hits. Trevor Fredrickson, Michael Prieto, Bobby Calzadillas, Daniel White, Jared Ortiz, and Andrew Reed each added a single.
On the mound Bobby Calzadillas set a Alumni Game record throwing 4 innings. Andrew Reed and Fredrickson each hurled 2 innings. Rusconi and Spencer Ortega each threw 1 inning.
There were 2 notable defensive plays. Prieto made a diving catch in right field to save a couple runs. Chris Reed made a diving play at first to end a rally.
There was a epic battle before the game even started. The 3rd Annual Home Run contest needed a playoff round to decide a winner. Chris Reed and CJ Woldanski each had 3 home runs in the first round. In the second round C Reed had 2 more home runs, but Woldanski stepped in and crushed 3 big flys to walk away with the crown. The orignal winner back in 2010 was Chris Caldwell. Then in 2011 Aaron Watkins twas the winner and this year's defending champ.
We would like to thank Mr. Armendariz for all the food. Mama and grandma Ortiz for helping clean. The varsity players for shagging during BP and cleaning up the field. Trevor for helping organize the event. LWs waving his bat on the way to first was classic and will be a new play for the Wildcats this year. It was great to see Allen late again, the Cave Man leave early, and Jared throw his bat. Scott Keene was great as our umpire even with 5 ball counts. None of the bats were legal. C Reed still competes. No WR baseball event would be a success without T-Dog. CJ still rocks the rally socks. Infield fly was yelled on any ball in the air. WR current and past baseball parents are the best! Prieto and Lau are HUGE! An appearance by Paul Hammons and the Hammons family made the day. Great times!
Watch Video From Alumni Game on YouTube Here!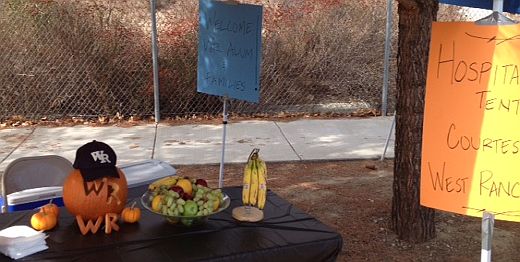 ---
2nd Annaul West Ranch Baseball Game
October 15, 2011
The Navy team beat up on the Gold team 14-1 on Saturday morning, but everyone had a great time. We would like to thank the Cloney family, Mrs. Rusconi, Mrs. Poe, and the Ortega family for all their help putting on the event and helping feed everyone! A special thank you to Trevor Fredrickson for helping us get 28 alumni to Wildcat field.
Before the game, Aaron Watkins edged out Charilie Gillies to win the home run contest. The final round for the home run contest consisted of Watkins, Gillies, Michael Browne, Jared Ortiz, Chris Caldwell, and Allen Sarkissian.
The MVP of the game was Nico Rusconi who had a huge day at the plate. He had a single, triple, and a home run. Gillies pitched 2 scoreless innings going 6 up and 6 down with 2 Ks. Bobby Calzadillas struck out the side in his one inning pitched. Other pitchers who threw scoreless innings were- Travis Sreden, Ryan Lau, Steven Farnworth, Andrew Reed, Chris Reed, and Mitchell Thompson. Players with hits at the plate were- Randy Poe, Thompson, Gillies, Spencer Ortega, Calzadillas, Brett Bradbury, Max Blaha, Farnworth and Matt Blake.
We would like to thank all the alumni and current families for putting on such a great event. It is great to be a Wildcat! See everyone next year!
View Alumni Game Pictures Here
Alumni Game Pictures (Aaron Hasson Pics)
---
West Ranch Baseball Game 2010

View Larger Version of Above Image
Thanks to all of the parents for their help. Saturday's Alumni Game was AWESOME! Present and past parents all pitched in to host and feed everyone who attended. The weather was great and the Ortega grill was rockin! Ryan Keller was great with the mic.
Chris Caldwell took the first ever alumni home run contest. Cal Vogelsang and Cody Howard tied for 2nd.
The Wild took the lead early and never looked back beating the Cats 8-6. CJ Woldanski got the start for the Wild and earned the win throwing 2 shutout innngs. Michael Browne had a big 3 RBI double in the 2nd. Troy Hansen had a web gem in left field with a great diving catch to save a couple runs for the Wild. Travis Sreden had a quick 5 pitch inning on the bump. Brett Bradbury had 2 singles and several stolen bases. Nico Rusconi had a pair of doubles for the Cats. Cody Howard had a single and a double. Tom Hennelly, Hunter Hernandez, Chris Reed, and CJ Woldanski each had hits. Hunter Hernandez, Bobby Calzadillas, Brett Bradbury, Chris Reed, Aaron Hasson, CJ Woldanski, Cal Vogelsang, and Cody Howard each had RBIs. Tom Hennelly had a stolen base.
We look forward to seeing everyone again next year!!