West Ranch Baseball Alumni Page
View Alumni Game Past Recaps and Future Date
---
Some Alumni College Head Shots- Not all colleges post their images online, so we grab what we can!

Jake Spurlin, 2014

CSUN

Cody Bennett, 2013

Sonoma State

Steven Farnworth, 2011

Cal Poly Pomona

Michael Silva, 2012

Loyola Marymount

Matt Blake, 2011

CS Monterey Bay

Trevor Fredrickson, 2009

CSUN

Chris Caldwell, 2010

Occidental College

Jake Bird, 2014

UCLA

Avery Ortiz, 2012

CS Monterey Bay

Allen Sarkissian, 2010

COC

Jason Drees, 2016

Oregon

Blake Baumgartner, 2016

UC San Diego

Josh Heinz, 2012

CS Monterey Bay

Justin Hovis, 2012

Michigan State

Charlie Gillies, 2008

The Masters College

Nick Brooks, 2015

Masters College

JC Cloney, 2012

Arizona

Ryan Keller, 2011

Cal State LA

AJ West, 2015

LA Mission College

Cal Vogelsang, 2009

CSUN

Parker Bacon, 2014

LA Mission College

Eric Williams, 2015

Maste's College

Kyle Paguio, 2015

Willamette

Kyle McGraw, 2013

LA Mission College

Dakota Hernandez, 2011

Cal State LA

Michael Alvarez, 2011

Cal Lutheran

JD Krauskopf, 2012

COC

Cade Spurlin, 2016

Mission College

Casey Watkins, 2009

CS Fullerton

Davis LeBarron, 2014

COC

Jack Cunningham, 2016

San Jose State

Sam Gray, 2016

Mission College

Mike Rosati, 2016

Mission College

Greg Pearson, 2014

COC

Jagger Rusconi, 2015

Boston Red Sox

Devin Judge, 2016

COC

Doug Gragg 2016

Moorpark College

Daniel Luevano 2016

Moorpark College

Timmy Josten, 2017

CS Fullerton

Nico Valdez, 2017

Misson College

Dom Eberle, 2017

Mission College
---
2018 Senior Class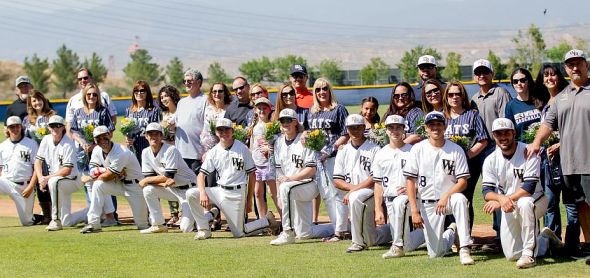 Justin Bumgarner- Nebraska Weselyn
Alex Burge- Loyola Marymount
Will Chambers- UC Santa Barbara
Max Cogan- LSU

Bre

ndan Fisher- Misson College
Evan Gellatly- Nebraks Weselyn
David Montalban- COC
Ryan Perez- COC
Vincent Rojas- Laverne University
Christos Stefanos- Biola
---
2017 Senior Class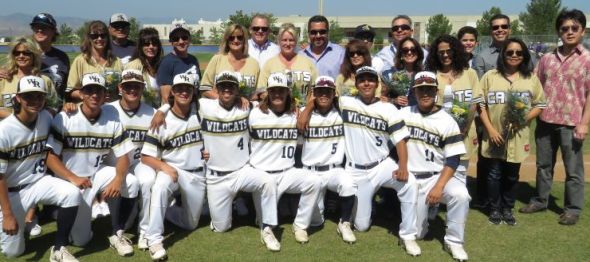 Garren Bui- Cal Poly SLO
Bryan Delgado- Mission College
Dom Eberle- Mission College
Chris Gaff- COC
Austin Hernandez- COC
Timmy Josten- Cal State Fullerton
Alex Lee- COC
Robert Pablos
Nico Valdez- Mission College
---
2016 Senior Class
Blake Baumgartner- UC San Diego

Jack Cunningham- San Jose State

Jason Drees- Oregon

Christy Frierson- UC Santa Cruz

Doug Gragg- Santa Barbara City College

Sam Gray- Mission College

Devin Judge- University of Northern Colorado

Daniel Luevano- Moorpark College
Simon Pilato- Pepperdine

Michael Rosati- Mission College

Cade Spurlin- Mission College
---
2015 Senior Class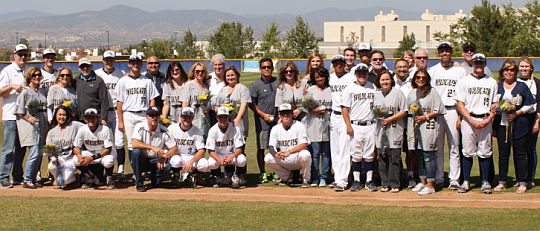 Ryan Beddeo- Fresno State

Nick Brooks- Master's College

Hayden Cook- West Point

Alex Karroll- Boise State

Tyler Miura- College of the Canyons

Phil Olivero- St Katherine

Marc Ortiz- College of the Canyons

Sean O'Shea- Mission College

Kyle Paguio- Willamette

Jagger Rusconi- Bosten Red Sox

AJ West- Mission College

Eric Williams- Master's College
---
2014 Senior Class

Parker Bacon- Mission College, USC

Jake Bird- UCLA

Addison Jackson- University of San Diego

Christian Kirk- San Diego Christian

Davis LeBarron- College of the Canyons

Chase Malynn- Texas

Marty Mojarro- Mission College

Dylan Mysko- Northern Arizona

Josh Kovach- Marshall

Greg Perason- College of the Canyons

Nick Ruffino- Northern Arizona, College of the Canyons

Jake Spurlin- College of the Canyons, Cal State Northridge

Jonathan Whiteside- Temple
---
2013 Senior Class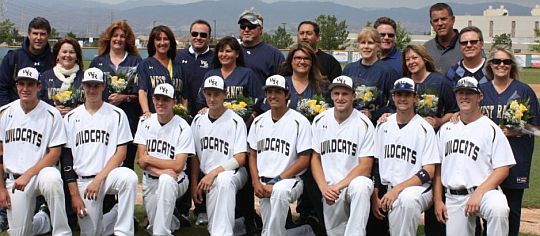 Cody Bennett- Sonoma State

Jordan Benty- U Mass Amherst, Ohio State

JD Krauskopf- Sonoma State, College of the Canyons, Cal State Monterey Bay

Kyle McGraw- City College of San Francisco, College of the Canyons

Brandon Silva- Cal State Northridge

Tony Slauson- Cal State Northridge

Kyle Williams- UC Irvine

Tyler Woldanski- Southern Mississippi
---
2012 Senior Class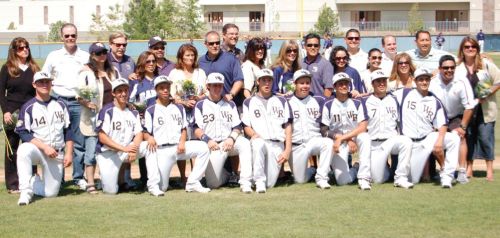 JC Cloney- Long Beach State, College of the Canyons, Arizona

Casey Gahan- Cal State Monterey Bay

Matt Guerrero- College of the Canyons

Josh Heinz- Cal State Monterey Bay

Justin Hovis- Michigan State

Jake Miura- Cal State Northridge

Avry Ortiz- Cal State Monterey Bay

Gabe Peralta- College of the Canyons

Michael Silva- Loyola Marymount
---
2011 Senior Class
Michael Alvarez- Cal Lutheran

Josh Bird- San Diego State

Matt Blake- Cal State Monterey Bay, College of the Canyons, Arizona State

Steven Farnworth- Cal State Monterey Bay, College of the Canyons, Cal Poly, Florida Marlins

Dakota Hernandez

-

BYU, Cal State LA

Ryan Keller- University of San Diego, Cal State LA

Ryan Riordan- University of Oregon

Aaron Smirnoff- University of Oregon

Aaron Watkins- Mission College
---
2010 Senior Class

Chis Caldwell- Occidental College

Hunter Hernandez

-

College of the Canyons

Casey Millar

-

College of the Canyons

Ryan Lau

-

College of the Canyons, Arizona State

Jared Ortiz- Long Beach State

Randy Poe- College of the Canyons, Cal State Northridge

Nico Rusconi

-

Loyola Marymount

Allen Sarkissian

-

Concordia, College of the Canyons
---
2009 Senior Class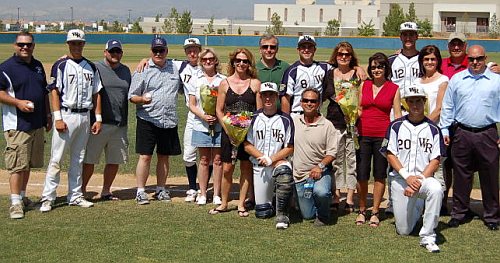 ---
2008 Senior Class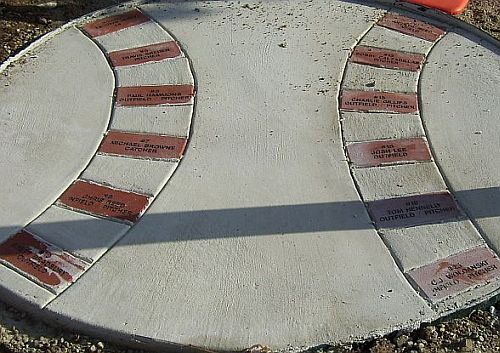 WR Baseball Alumni- Click on Name For Current Information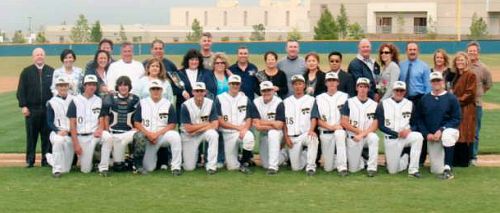 Mr. Gillies Speech on Behalf of the Senior Parents
Dear WR Varsity BB Seniors,
I have been selected to represent all of your parents and family members in delivering a "farewell" message to all of you in honor of your last high school baseball season.
You gentlemen are part of a unique and historic group. All great institutions have had a beginning. There is a date, a time, and a group of people that represent the start of something which will last for decades if not generations. You have been privileged to be members of the first graduating class of this fine, new, institution we call West Ranch High School. That is a badge of honor and pride you will carry with you your whole life. We parents believe that you have given this school a great start, and as its first graduating class you have already established traditions of excellence, that will be carried on by those who follow after you.
We parents are so very proud of you. As little boys we bought you plastic bats with wiffle balls. On the green grass of yards and parks we softly tossed you pitches and were amazed at how hard you hit the ball and how far you could throw. We saw the smile that would come on your face the first times you caught the ball, in your first little fake leather baseball glove. In time, wiffle balls turned into tennis balls, which turned in to real size baseballs that were a little spongy. In the back of our minds we thought, "Wow he really has a talent for this stuff". We then signed you up for youth baseball and became your number one fans. Out of thousand of kids who played, your talents in the sport made you rise to the top of your team. We followed you through thick and thin. We've paid thousands of dollars for cleats and bats, gloves and under armor. We've driven thousands of miles, eaten pounds and pounds of snack bar food, candy, sodas, seeds, and fast food. We watched you play in the cold wind and rain, as well as the hot burning sun. We ate the dust of parking lots, got our cars pelted by foul balls, endured good umps and bad umps, good coaches and bad coaches, good parents and bad parents. All of this we have done as parents because we love you, and we love to watch you play baseball.
We also want to recognize your hard work these past four years. Four years ago you started high school by attending a junior high campus. Your home field was just a patch of scraped off dirt. Through the hard work and efforts of the coaching staff, school administration, parents, and you players, a beautiful baseball facility was planted on that breezy plateau, where the American flag waves proudly, framed by rugged mountains in the distance. But it must never be forgotten that it is your blood, your sweat, and your tears that have fallen on that diamond as you practiced and prepared, and competed for the honor of your school. Although the playoffs eluded you this year, please know this, that you have laid a solid foundation upon which future league champions will stand.
Never forget that baseball, in a way, is like a snapshot of life. The years are like innings that have their peaks and valleys, strike-outs and double plays, come from behind doubles, and three up and three down. But being a Wildcat has given you some great tools that will benefit you in life. Teamwork, tenacity, patience, courage, effort, sportsmanship, punctuality, respect for authority, professionalism, pride in appearance, strategy, friendship, and loyalty. These are all lessons that you have learned and are tools that will benefit you in the coming "innings" of your life.
So we as your parents and family challenge you to go out and do great things. Make big goals. Dream big dreams. Ignore the critics and the naysayers who will try to discourage and dissuade you. Listen to some famous words by Theodore Roosevelt, our 26th president. "It is not the critic who counts; not the man who points out how the strong man stumbles, or where the doer of deeds could have done them better. The credit belongs to the man who is actually in the arena, whose face is marred by dust and sweat and blood, who strives valiantly; who errs and comes short again and again; because there is no effort without error and shortcomings; but it is he who does actually strive to do the deed; who knows the great enthusiasm, the great devotion, who spends himself in a worthy cause, who at best knows the triumph of high achievement, and who at worst, if he fails, at least he fails while daring greatly. So that his place shall never be with those cold and timid souls, who know neither victory nor defeat."
You gentlemen are not among those "cold and timid souls", you have striven valiantly indeed. Thank you for entering that arena and competing. As parents please know that we love you with all of our hearts. We are so very proud of you. Thank you for giving us pleasure in watching you play baseball.
Peter Gillies