2017 Summer Baseball Page
---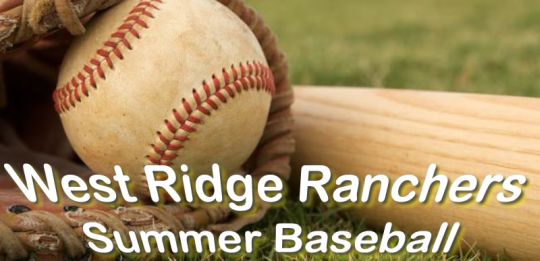 ---
2017 Summer Camp Details
West Ranch HS has a camp that runs during the summer for 4 weeks. Current West Ranch HS students and incoming freshmen can register in the spring to participate in the camp over the summer. Incoming Freshmen Parent Meeting on Monday June 12, 7pm in room 513.
2017 Summer Camp Sign-Up is HERE
| | | | | | |
| --- | --- | --- | --- | --- | --- |
| Freshman | Mon-Thurs | June 12-July 6 | 8:30-10:30am | WR Baseball Field | $95.00 |
| Varsity/JV | Mon-Thurs | June 12-July 6 | 7:30-9:30am | WR Baseball Field | $95.00 |
Rancher Baseball
Ranchers Travel Team Info
End of Spring Player Meetings- Monday May 15
Ranchers payment due Thursday May 18to Coach C Burrill (Checks made out too WR ASB)
Varsity cost- $175
JV Navy and JV Gold $150
Here are the goals of Summer Baseball @ WR-
Meet our new Freshmen
Make life-long friendships
Have a fun experience playing the sport we all love
Travel and spend time together with Varsity and JV Teams
Get better by playing games and competing
Improve individual baseball skills
Playing "team" baseball will be emphasized
Improve player conditioning and strength
Develope arm health and strength
Supply proper supervision and safety measures
Find and compete against quality opponents
Meet other high school level baseball fanatics like us
Provide college recruiters access to our players
Give professional scouts a chance to evaluate and interact with our players
Be done with all summer baseball middle/late July
Carefully restart baseball activities in September
---
Current 2017 Summer Ranchers- Rosters are Fluid and Can Change
Varsity Roster

JV Gold Roster

JV Navy Roster

Aguero
Bird- PO
Buckner- PO
Bumgarner- P
Burge- P
Callahan- P
Chambers
J Camacho
R Camacho
Clarke
Farr
Fisher- PO
Freeman
Frierson- P
Gellatly
Harrison- PO
Monheim
Dav Montalban- PO
Nicol- PO
N Perez- P
R Perez
Rojas- P
Snavley- PO
Stefanos-P

Callan
Clarke
Costello- P
Deck
Harrison- P
Kuper- P
Lagana
Nicol- P
R Perez
Sanvley- P
Stadt
St. Amand- P
Striplin- P
Tucker
Wyre- P

Brooks
Deck- P
Hepp
Huff- P
Ilan- P
Dan Montalban
Pablos
Robles
Topping
Sanchez
Schultz- P
Yosfan- P
Zugbaum- P
---
-Varsity and JV Summer Lifting/Conditioning Schedule-
Monday and Thursday 7:30-8:45am.
1st Day Monday June 12
Last Day Thursday July 6
10 Total Days
---
2017 Varsity Summer Ranchers Schedule and Results
Click Completed Game for Box Score
Live Internet Radio Broadcast and/or Cube Video Information HERE
* Rogue Valley League
Summer Varsity Misses-
Rojas- June 22-28

Camacho Bros- June 28L, and 29

Buckner- June 28, 29 and July 5

Harrison- July 3-19

Frierson- July 7-9

Gellatly- July 5, 12-15

Bumgarner- July 10-16
---
2017 Ranchers JV Gold Summer Schedule
| | | | | |
| --- | --- | --- | --- | --- |
| Date | Time | Opponent | Location | Result |
| Mon 6/5 | 5:00 | Calabasas | Calabasas | W 5-2 |
| Thurs 6/8 | 5:00 | Notre Dame | West Ranch | L 3-12 |
| Fri 6/9 | 3:00 | LV Knights | Durango | W 19-13 |
| Sat 6/10 | 8:00am | Post 76 | Durango | W 19-0 |
| Sat 6/10 | 10:15 | SN Blue Sox | Durango | L 2-4 |
| Sun 6/11 | 8:00am | Coronado | Coronado | W 6-3 |
| Thurs 6/15 | 5:00 | Harvard-Westlake | West Ranch | L 1-8 |
| Sat 6/17 | 9:00 | Valencia- DH | West Ranch | W 12-4 |
| Sat 6/17 | 12:00 | Valencia- DH | West Ranch | W 9-1 |
| Mon 6/19 | 5:00 | Simi Valley | Simi Valley | W 8-2 |
| Thurs 6/22 | 5:00 | Alemany | Alemany | L 4-5 |
| Sun 6/25 | 12:00pm | Santa Barbara Foresters | Westmont College | |
| Sun 6/25 | 2:30pm | Santa Barbara Foresters | Westmont College | |
| Mon 6/26 | 5:00 | Moorpark | West Ranch | |
| Wed 6/28 | 6:00 | Crescenta Valley | Stengel Field | |
| Thurs 6/29 | 5:00 | Westlake | West Ranch | |
| Thurs7/6 | 5:00 | Alemany | West Ranch | |
| Mon 7/10 | 5:00 | Westlake | Westlake | |
| Thurs7/13 | 5:00 | Agoura | Agoura | |
| Mon 7/17 | 5:00 | Harvard-Westlake | Harvard-Westlake | |
| Wed 7/19 | 5:00 | Notre Dame | West Ranch | |
Summer JV Gold Misses-
Snavley- June 23-25
Clarke- (Can Make)- June 23-26
Wyre- June 22, 28
Callan- July 6
Striplin- July 6

Harrison- July 3-19

St. Aamand- July 14-23
---
2017 Ranchers Frosh Navy Summer Schedule
| | | | | |
| --- | --- | --- | --- | --- |
| Date | Time | Opponent | Location | Result |
| Tues 6/20 | 5:00 | Simi Valley | West Ranch | W 10-4 |
| Fri 6/23 | 5:00 | Alemany | West Ranch | L 5-9 |
| Tues 6/27 | 5:00 | Moorpark | Moorpark | |
| Wed 6/28 | 3:15 | Crescenta Valley | Stengel Field | |
| Fri 6/30 | 5:00 | Westlake | Westlake | |
| Fri 7/7 | 5:00 | Alemany | Alemany | |
| Tues 7/11 | 5:00 | Calabasas | West Ranch | |
| Fri 7/14 | 5:00 | Notre Dame | West Ranch | |
| Tues 7/18 | 5:00 | Agoura | Agoura | |
| Wed 7/19 | 5:00 | Valencia | Valencia | |
| Fri 7/21 | 5:00 | Harvard-Westlake | West Ranch | |
Summer JV Navy Misses
Ilan- June 30
Schultz- June 30-July 7
---