Summer Camp Has Been Postponed by the District
The ability to keep players, coaches, staff, and families safe is in question.
Next target date for District sports is July 20. I will keep you all posted as I get information.
---
2020-2021 WR Athletic Clearance

Each player must complete the Athletic Clearance registration process online prior to participating in any WR sports.
HERE is the link to all the information
---

The new 2020-2021 remind app code is here. To get on board text to 81010 the message- @h36b37
This is a great way to stay in contact with the parents in the program. Parents from all grade levels are encouraged to join.
---
I will try and keep the baseball and school updates coming on this webpage. As I know, you will know. I will also share my thoughts and experiences as this moves forward, feel free to contact me with any questions or comments.
Coach Casey Burrill
Previous COVID-19 Daily Updates are HERE
Most recent updates are below...
---
Thursday July 9, 2020-
Many of you have asked for the hybrid schedules that the school board approved. So here they are. One for high school one for junior high. Baseball practice would be an 8th period class starting at 1:40pm each day. Click on the image to see a larger version of the image.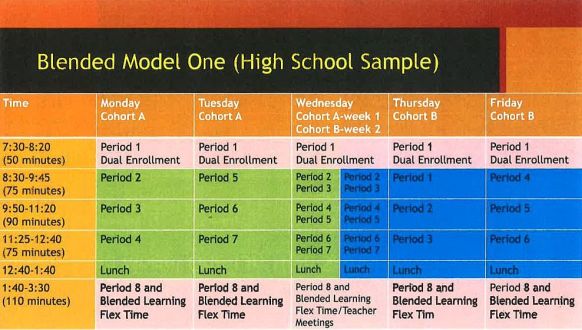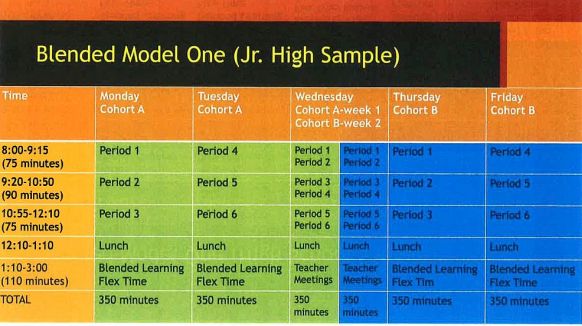 Obviously, these models are the current target for our school district and can change as the health department makes new guidelines. Hopefully, it changes towards more on campus time with the virus is in retreat. If the virus gets worse, then we could be forced to more online teaching and less classroom time. And it is possible we get forced to complete online education for the semester.
Once again, you can select online only learning for this semester and still come to practice each day at 1:40pm.
Stay safe everyone!
---
Wedensday July 8, 2020-
Next Zoom meeting will be Monday July 13 at 7pm. It will be for parents and players. There will be just the one meeting for returning players and incoming freshmen. Zoom link coming soon.
Not much more to add since my post yesterday. A bunch of information from Tuesday.
Stay safeveryone!
---
Tuesday July 7, 2020-
The debate is on. A nationwide debate. Should schools open to in person instruction or should the first semester be all online? I sure understand both sides. If I had a school age child, I would be begging to get him/her back to school.  As of today, and the current trend of the CORONA Virus, there is no way I would want my child back in school. It has turned political, each side digging in. So now what?
Here are my own thoughts for my own situation. Yours may be different and I except and honor your thoughts and opinions. I am nervous for my own safety. My wife teaches too. I am not confident there will be enough protection for the students and staff. I also do not think there is a solid plan in place in case someone is infected by the virus and attends school for a day. I am yearning for some time in the classroom with my students. No baseball with the boys is slowly killing me. I sure would like to be back on campus with everyone. I would like things to be normal again. Vaccine please!
Today with what I know and hear, I would prefer distance learning and keeping everyone safe. But I will be a good soldier and fall in line just like our health care workers have been doing all along. If I am asked to go back to school and teach/coach, I will do it with the same energy and enthusiasm that I always have. My dedication to the safety of the students will be at the forefront of every move I make. It will be a challenging, emotional, exciting, and nervous time for sure. So, I wait for a decision to be made. There is a little more time for our district to reach the best decision for everyone involved. School is scheduled to start August 11.
The parents have been asked to voice their opinions.  Our district is asking for parents to decide on an educational model for their own children. Below is the information sent out by our district to help parents make a decision based upon today's health recommendations.  
-----
Good Morning Hart District Families,
Our schools sent out a survey asking families to indicate their plan for the fall (exclusive online learning or blended learning). We realize that many of you do not have the information you need to make this decision. The following is a review of the important factors to consider when deciding between the exclusive online learning model and the blended learning model. An FAQ page is being created and will be added to the District web site. Additional details will be shared on a weekly basis.
Exclusive Online Learning
Students will remain enrolled at the current school unless the parent indicates that the preference is for long term online learning through Learning Post Academy/Hart at Home.
Students will be scheduled in the same manner as peers who will return to campus.
Teachers will utilize Google Classroom to deliver the instruction each week.
Teachers will be required to use ZOOM or Google Meet to interact virtually with students providing instruction to support Google Classroom content.
If a student elects to participate in the exclusive online learning environment, he or she may still participate in extra-curricular and co-curricular activities such as athletics, ASB, etc…
If a student elects to begin the semester in the exclusive online learning environment, he or she may switch to the blended learning model at any time during the semester. Once a switch has been made, students will be expected to continue with that option through the semester unless presented with extenuating circumstances.
Teachers will provide targeted intervention for struggling students.
Teachers will be receiving professional development to increase effectiveness of online instructional practices and students will be held accountable for integrity of assignments and due dates.
Blended Learning
Students will be divided into two cohorts based on first initial of last name (A-K Cohort A, L-Z Cohort B). Based on the requirement to maintain social distance, the schools can only accommodate 19-20 students per classroom.
Students in Cohort A will attend school on a block schedule Monday and Tuesday. Students will be dismissed at lunch.
Lunch will be "grab and go".
Students in Cohort B will attend school on a block schedule Thursday and Friday.
Wednesdays will be rotated between cohorts weekly unless there is a holiday on a Monday in which case Cohort A will attend Wednesday on the block schedule.
Block schedule allows for three classes per day at the junior high.
The high school schedule has three classes per day along with additional time in the early morning for dual enrollment and the afternoon for athletics and other school specific courses.
All students and staff are required to wear masks.
Anyone entering campus will need to sanitize their hands prior to entrance and sanitize again prior to entering any classroom or building.
Both core curriculum and elective courses will be offered.
Students are expected to be participating virtually in the instructional process when not on campus.
Students will be required to rotate classrooms per their individual schedule.
Parents are expected to keep children home if they are displaying any COVID-19 related symptoms.
Campuses will be marked with social distancing indicators in all areas where a line may form.
There will be occupancy limits for restrooms, libraries, and wellness centers.
All students from the same family will be placed in the same cohort.
Changes to the assigned cohort can be requested and will be accommodated until the requested cohort is at capacity.
Students or staff testing positive for COVID-19 will be quarantined. Contact tracing will be completed and students who have been exposed will be notified and quarantined for 14 days or until a negative COVID test is provided.
If there is an outbreak, which is defined as three or more positive cases within a 14 day period, the Department of Public Health will be notified and the school will follow their directives.
We value the partnership we have with you as we work together through this unprecedented time to continue providing the best education for your children. We hope that with this added information you will be able to let your school know your preference.
-----
Good luck on your decisions. Stay safe!
---
Monday July 6, 2020-
I heard back from the WR Admin who contacted our district and CIFSS officials. You would be allowed to play any sports at WR if you choose to be exclusively online for your education this fall semester. So there is no pressure to make your decision as to whether you want to return to campus for the hybrid schedule or stay at home during the day for the online curriculum.
The COVID-19 numbers from the weekend are not encouraging.
Have a safe and healthy week!
---
Sunday July 5, 2020-
Thanks for joining me for the Zoom meetings tonight. Here is a short recap-
Summer camp starting tomorrow has been canceled by the district due to health concerns
Thanks to Lindgreen, Cardamone, Imbert, Powers, and my brother for working on the camp planning
Thanks to the parents who donated time, energy, and money towards the camp
We feel like we were ready to conduct the camp and keep our players, coaches, staff, and families healthy
WR coaches can not have contact live face-to-face interactions with the WR players
West Ranch High School is closed, you may not use the baseball facility
We encourage and support our players playing baseball elsewhere this summer
Makes sense to us if you decide not to play baseball to keep your family safe
Camp refunds will be completed when school starts
July 20 CIFSS will produce a 2020-2021 sports calendar; this will tell us a lot about the plan for next school year's sports
First day of school is August 11
Parents have been sent a questionnaire to decide if the want online or hybrid education this fall
Most colleges and universities in California are now online for the fall
There does not look like a scenario where there is a baseball PE class
We have no word on after school WR baseball practices
College coaches cannot recruit or watch players play until at least September 1st
Our seniors should be contacting college coaches and sending video of play
We will not make summer cuts
Tryouts will be held later when we can play normal baseball
Let me know of any questions.  I am looking into a player being online for classes and still be able to practice with the team in the afternoon. I will continue to post information here on my daily blog as it comes my way.

I will continue the expansion of the Burrill LEGO City and watch the bears up here in Pine Mountain Club. I would rather be with our players on Wildcat Field…

Stay safe everyone!
---
Saturday July 4, 2020-
Happy birthday America! We continue to see our great nation grow. And 2020 has been no exception.
Tomorrow night we will have our Zoom meetings. Returning families 7pm meeting link is HERE. Incoming Freshmen families 7:30pm meeting link is HERE. Have a great 4th of July weekend.
Stay safe everyone!
---
Friday July 3, 2020-
Sunday night July 5th we will have our Zoom meetings. Returning families 7pm meeting link is HERE. Incoming Freshmen families 7:30pm meeting link is HERE. Have a great 4th of July weekend.
Hope you all have a great 4th of July! May you and your family be healthy over the holiday weekend!
Stay safe eveyone!
---
Thursday July 2, 2020-
It looks like UC schools and several private universities like USC are now going online for the Fall semester. Maybe not having our camp is a wise move in terms of safety for all of us.
I am still trying to recover from the news of no camp this coming Monday. I so want to see all of our players. We will eventually get everything back up and running and baseball will be as strong as ever.
Sunday night July 5th we will have our Zoom meetings. Returning families 7pm meeting link is HERE. Incoming Freshmen families 7:30pm meeting link is HERE. Have a great 4th of July weekend.
Please stay safe.
---
Wednesday July 1, 2020-
Click HERE for The Signal article about summer camps being postponed.
So for us, we need to follow the current district rules.
No coach to player practices or workouts
WR Baseball facility cannot be used
Players can participate in club or scout teams as they wish
West Ranch players cannot wear West Ranch gear with other teams
July 20 is next target date for summer camp decision
Although the coaching staff is extremely disappointed with this decision, we are for the health and safety of the player, coaches, support staff, and families.  So, we will be thankful for everyone's health and are hopeful for a safe return to Wildcat Field in the future. The coaching staff put together a practice plan that we think would be productive for the players while keeping everyone safe. You can see that practice plan HERE.
To our players- I appreciate your patience.  I know you want to get on the field and compete with your teammates. Please know the coaches feel the same way. Our program will be ready when we get the all clear. Please continue to work out and train for the sport we all love to play. You need to play catch. I love seeing the pictures and videos of you all playing baseball and getting better. Feel free to play somewhere else that is safe for you and your family. You have our full support to finish this summer with another organization. Contact me if you need help finding places to play. Keep me in the loop as I will enjoy following your baseball travels. I will live vicariously thru your baseball experiences. I also understand if you want to keep your distance from others to keep you and your family healthy. There is no correct way to end your summer this year. What you decide to do will be driven by the comfort level of you and your family. Take care of YOU and what is best for your family. I am just a phone call or text message away and will always be here for you!
I will be watching the news and bugging our district for information. The Burrill LEGO City will get lots of love.
Sunday night July 5th we will keep our Zoom meetings, but we will turn them into family meetings. Returning families 7pm meeting link is HERE. Incoming Freshmen families 7:30pm meeting link is HERE.
Stay safe everyone, I miss you all!
---
Tuesday June 30, 2020-
Another long month coming to an end. July starts tomorrow! Coaches had COVID training this morning and there is more tomorrow.
We have a working shell for our practice plan for Monday's first day of camp. Take a look at it. Like always, you can find the daily practice plan here on our website. Go to the "Schedules" drop down menu, then select "Today's Plan".
Thanks to those who have donated thermometers to the program. Always a generous group.
Sunday night July 5th we will have one last Zoom meeting before we start camp the next morning.  Returning player 7pm meeting link is HERE.  Incoming Freshmen player 7:30pm meeting link is HERE.
Each player must bring a copy of their completed physical exam on the first day. Players must register/pay for the camp and have completed the online Athletic Clearance.
Each player will need to bring to camp a completed Sports Liability Release Form.  Download it HERE.
Stay safe!
---
Coach Casey Burrill