Continuing 2016 CIF Division 1 Playoff Information
---
On Tuesday the Cats will travel to Blair Field in Long Beach for a semi final CIF Division 1 playoff game.
Blair Field- 4700 Deukmejian Dr, Long Beach, CA 90804.
View Murrieta Mesa Maxpreps Information
View Murrieta Valley Baseball Website
Long Beach trip information-
Bus will depart at 11am on Tuesday for Long Beach. We will have lunch off Bellflower exit from 405 freeway in Long Beach. Lunch will be in shopping center between Los Coyotes Diagonal and Atherton St. Lunch choices for the team are In-N-Out, Panda Express, Jersey Mike's, Chipotle, and Wingstop. After lunch we will arrive at Blair Field at 2pm. 1st pitch will be at at 4pm. Dinner after the game TBA. We may also decide as a team to stay and watch the 2nd game of the night.
Blair Field Stadium Information for Spectators-
Blair Field rules do not allow any outside food or drinks into the stadium.
There will be no parking fee for these games at Blair Field, but parking is limited. The parking lot is adjacent to Blair Field on 10th Street, Park Avenue and Federation Street.
Tickets will be on sale in front of the Main Gate only. Ticket prices for the semifinals are $8.00 for adults, $5.00 for students with a valid High School I.D. and $5.00 for children 13 and under. Tickets are good for both games
Ticket booths and turnstiles will open at 3:00 p.m.
All seating will be confined to the field level of the stadium. We are the home team on Tuesday night. The visiting team will be assigned to the first base side and one half of the seating directly behind home plate, with the home team being assigned the third base side and one-half of the seating directly behind home plate.
No Noisemakers (horns, bells, victory bells, sirens, chimes, wooden blocks, balloons,
thunder sticks, etc.)
It is the expectation that cheering section behavior will be monitored by the assigned
school staff of the school that they represent. All improper behavior/language should be
addressed and c corrected immediately by school staff supervisors.
The CIF Southern Section will provide programs.
---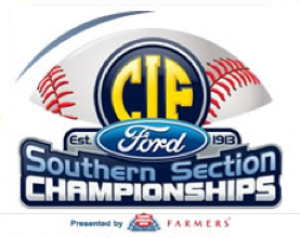 The Signal Article about the 2016 CIF Playoffs
Daily News Article about 2016 CIF Playoffs
The Signal Perfect Storm Article
The Signal Blake Baumgartner Article
The Signal Second Round Playoff Article
The Signal Quarter Finals Round Playoff Article
Daily News Playoff Run Article
The Signal Semi-Finals Preview
West Ranch will enter the playoffs as the #1 team from the Foothill League.
View Playoff Brackets HERE
Division 1 Playoff Dates-
Wild Card- Wednesday, May 18, 2016- Bye for WR
First Round- Friday, May 20, 2016 vs Mater Dei @ WR- WIN 5-2
Second Round Tuesday, May 24, 2016 @ Norco- WIN 3-2
Quarter-Finals Friday, May 27, 2016 @ El Toro- WIN 2-1
Semi-Finals Tuesday, May 31, 2016 vs Murrieta Mesa @ Blair Field
Finals Saturday, June 4, 2016 - 66ers Baseball Stadium