Ranchers Weekend Games
SUNDAY- November 24
Varsity- The Ranchers lost at Dos Pueblos 1-2 on Sunday morning. Jake Schwartz got the start and tossed 4 scoreless innings. Adam Ilan threw 2 scoreless innings in relief. At the plate, RJ Gordon, Trey Topping, and Luke Hinrichs each hit a single. Ryan Farr had a sacrifice fly.
JV- The JV dropped their Sunday afternoon game at Dos Pueblos 1-4. Sean Sadaqatmal and Caden Deck each tossed 2 scoreless innings. Isaac Martinez threw 1 2/3 scoreless innings as well. At the plate, Shane Overholser had a hit and a RBI. Adam Ilan added a single.
SATURDAY- November 23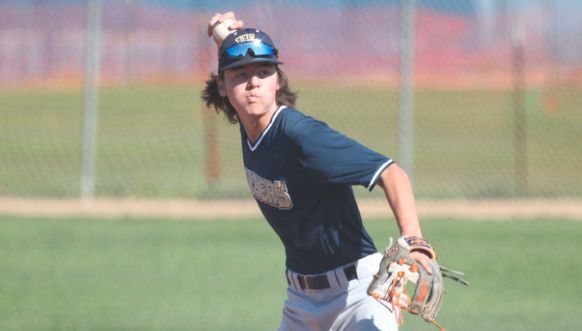 Varsity- The Ranchers played to a 2-2 tie at Cypress on Saturday afternoon. The game against the 2019 D1 CIFSS champions was a scheduled 12 inning contest. Trent Huff got the start on the mound and threw 3 scorelss innings. Ryan Lang threw 3 scoreless innings in relief. James Hepp and Josh Yosfan each threw 2 scoreless innings to close out the game. At the plate, Luke Hirichs had the game tying RBI double. RJ Gordon had 2 hits. Nicholas Perez and Trey Topping each hit a double. Ryan Farr, DJ Tsukashima, Jake Callahan, and Yosfan each added a hit.
JV- The JV Ranchers beat Alemany 8-7 on Saturday morning. Brandon Camacho, Robert Sowter, and Shane Overholser each threw a scoreless inning. At the plate, Matt Lloyd had a double, single, and 2 RBIs. Eric Muneton hit 2 singles. Joseph Jizmajian had a double and 2 RBIs. Josef Brosche hit a double. Christian Powers and Jake Schwartsz each had a hit and a RBI. Adding hits were Isaac Martinez and Sean Sadaqatmal, Sowter chipped in with a RBI.
Frosh-The Frosh Ranchers beat Calabasas 11-4 in a scheduled 11 inning game. Joe Specht had a big day at the plate hitting a triple and a double while collecting 2 RBIs. Kristian Trujillo hit a 2 RBI double. Andrew Greenberg hit a RBI double. Aidan Lindquist and Gavin Langston each had RBI singles. Shane Buchbinder, Michael Salas, and Ryan Shakelvich each added hits. On the mound, Gavin Langston threw 2 scoreless innings. Harish Balachandran, Greenberg, Specht, and Jake McMillan each threw a scoreless inning.