Wildcats vs Cowboys on Tuesday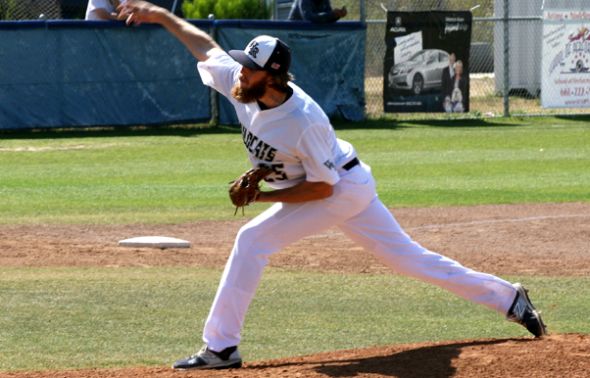 Varsity- The Varsity team beat visiting Canyon 4-3 on Senior Day at Wildcat Field. 9 seniors started on Tuesday in their last home game of their career. All 11 seniors played in the game. Eric Williams got the start and went 3 innings allowing 1 run while striking out 2. Hayden Cook pitched well for 1 1/3 innings. Alex Karroll got the win throwing 2/3 of an inning. AJ West threw a scoreless 6th inning and Nick Brooks earned the save with a scoreless 7th. On offense, Jagger Rusconi had 2 hits and a RBI. Eric Williams and Nick Brooks each had a double. Ryan Beddeo and Phil Olivero each had a hit and a RBI. Sean O'Shea, Kyle Paguio, and AJ West each added a hit. Jason Drees had the game winning RBI with a sacrifice fly in the bottom of the 5th.
Scorecard - Box Score - Play by Play - Audio Archive - Pictures - Hudl Video - Edge Stats
JV- The JV team beat Canyon 16-5 on Tuesday night. The Cats had 15 hits on the evening. Nico Valdez, and Austin Hernandez each had 3 hits. Garren Bui and Justin Woolley each had 2 hits. Adding hits were Chris Gaff, Jovan Garcia, Rory Mita, Nolan Bodeau, and Ethan Lopez. On the mound, Christy Frierson got the start and the win throwing 3 2/3 innings striking out 5. Koby Garcia threw well to finish the game for the Cats.
Freshmen- The Freshmen team beat Canyon 15-4 at Sierra Vista on Tuesday night behind a 20 hit performance by the offense. Alex Burge and Al Aguero each had 3 hits. Evan Gellatly, Christos Stefanos, Kobe Siy, Ethan Ivy, and Scott Arrowsmith each had 2 hits. Adding hits were Ryan Perez, Justin Bumgarner, Scott Kim, and Anthony Mincy. Alex Burge got the win throwing 4 innings allowing just 1 run while striking out 4. Brenden Fisher finished the game throwing 3 quality innings.