West Ranch vs Santa Barbara- Easton Tourney Game 1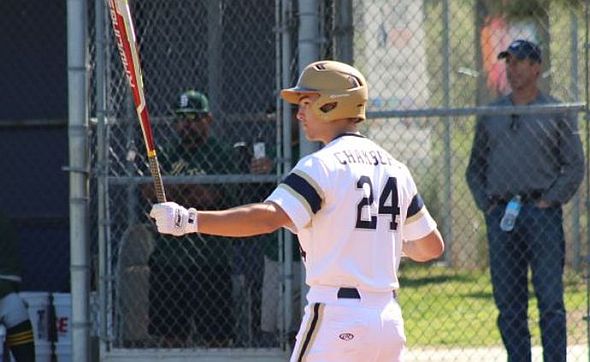 Varsity- Varsity beat visiting Santa Barbara 10-3. Will Chambers was 4 for 4 with 6 RBIs including a home run to lead the Wildcat offense. Christos Stefanos had a single, double, and 2 RBIs. Garren Bui had a double. Austin Hernandez and Alex Lee each had a RBI. Ryan Camacho added a single. On the mound, Alex Burge got the start and the win allowing just 1 earned run while striking out 4. He went 5 2/3 innings. Bryan Delgado threw 1 1/3 scoreless innings to preserve the win.
Kevin Karzin Photograpy- 2/25/17
View Easton Tournament Results Here
JV- JV traveled to Santa Barbara and beat the Dons 12-9 in extra innings. Garrett Monheim was 5 for 5. He collected 3 singles, 2 doubles, and 4 RBIs on the day. Nikko Clarke had 2 doubles, a single, and a RBI. Matty Frierson had a double, single, and a RBI. Sam Callan had 2 hits and a RBI. Justin Bumgarner had a hit and 3 RBIs. Ryan Tucker contibuted with a hit and a RBI. Cade Nicol added a RBI. On the mound, Trent Bird got the start and went 5 innings. David Montalban got the win throwing 1 1/3 scoreless ininngs at the end of the game.